Mary Beth Blackwell-Chapman
Cultural Memory and the power of the Story are two themes that recur in Mary Beth's work. These themes have led her to investigate The Goddess, Storyteller pots, Memory Dolls, the power of Place, and other subjects that involve history and images found in many cultures.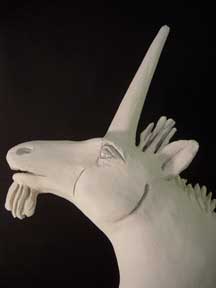 Clay has been her primary medium. She works with stoneware, uses slips and glazes, and oxidation fires in medium temperature. In her recent work, The Power of Endangered Animals, Mary Beth has created ceramic sculptures, 12 - 15 inches in height, of endangered animals - the Indian Elephant, the Clouded Leopard, the Whooping Crane, the Gaur, Przewalski's Horse. Images reminiscent of prehistoric cave paintings are carved on the surfaces of the figures, drawing a connection between artists and animals of years past, and contemporary artists and animals. Past and present intermingle and we see the power of memory.
Recently Mary Beth began working with paper, creating Artists's Books, and painting small works using watercolor and collage. Her small pictures are framed in groups and are glimpses of stories. They are playful and colorful; they question and wonder. And they are based in the human journey.
Mary Beth is a native of and lives in Forsyth County, North Carolina. She earned a BA in English Literature from Goucher College in Baltimore, Maryland, and an MA in Motion Picture from Northwestern University in Chicago. Her works are in collections in Virginia, West Virginia, Washington, D.C., North Carolina, and France. She has exhibited annually since 1993 in juried and non- juried shows in North Carolina.
Artworks Exhibits: May 2018, June 2013, May 2012, July 2010, November 2009, September 2008, May 2007, February 2006
Click on image for a larger view