Mary Beth Blackwell-Chapman and Nelida Flatow
Exhibition Dates: November 3 - 28, 2009
Reception: Friday, November 6, 7 - 10pm (Gallery Hop)

Artworks Gallery is presenting a two-person exhibit of clay animal sculptures by Mary Beth Blackwell-Chapman, and drawings and paintings by Nelida Otero Flato.
Ms. Blackwell-Chapman's work, entitled,"Fabulous Animals", is composed of large scale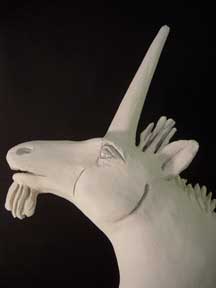 clay animals that are mythological creatures conjured by world cultures that delight, charm, and instruct. Says Ms. Chapman, "These creatures have always intrigued me with their ferocity, their oddness, their beauty, their implied stories. Creating these - the dragon,unicorn, siren, griffin, sphinx - gives me the opportunity to shout out for Imagination and how it enriches our lives." Ms. Blackwell-Chapman earned a BA in English Literature from Goucher College in Baltimore, Maryland, and an MA in Motion Picture from Northwestern University in Chicago. Her works are in collections in Virginia, West Virginia, Washington,D.C., North Carolina, Georgia, and France.
Ms. Flatow is showing two-dimensional work. The work is of the sea, shells done in a very fierce almost feral manner in encaustics, and dead fish photographed at the Rialto market in Venice and made into solarplates and transfers. There is also a series of black ink drawings on acetate of the shells.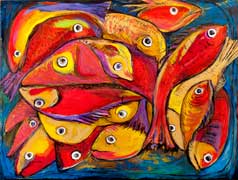 Ms. Flatow was born in Havana, Cuba and came to this country as a very young child. Her undergraduate degree came from Queens College CUNY, where she studied with artists such as Mary Frank, Louis Finklestein and Rosemary Beck. Afterwards she moved on to the Art Students' League, working with and assisting printmaker Roberto Delamonica, Ponce de Leon and painters Vaclav Vytlacyl and Leo Manso. At the League she also attended anatomy drawing classes taught by Robert Beverly Hale. She won a scholarship judged by Richard Estes and also a CINTAS Fellowship. While at the League she participated in an artists' postcard exhibition at PS 1, which traveled to the Venice Biennale. She earned a Master in Liberal Studies from Wake Forest University in Winston Salem, NC.
The opening reception is Friday, November 6, 7-10pm. The exhibit will be open for the Gallery Hop.
The exhibit and reception are free and open to the public.
Mary Beth Blackwell-Chapman, "Unicorn", clay
Nelida Otero Flatow, "They Say Only Dead Fish Go with the Flow", acrylic on canvas
Click on image for a larger view