E. Faye Collins and Chris Flory
Exhibition Dates: Sept. 1 - 26, 2009
Reception: Friday, Sept. 4, 7-10pm (Gallery Hop)

Artworks Gallery is presenting a two-person exhibit of collages by E. Faye Collins and acrylic abstract paintings by Chris Flory.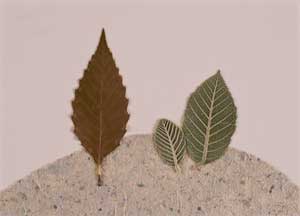 E. Faye Collins is showing collages involving images of plants, especially leaves. She explains that "This group of work is a continuation of my interest in composing. Collage is a medium that allows the composition to be reformed and refined to the maker's satisfaction before the pasting down. This is my creative process and it engages me fully. It reflects my interest in the details of plants, especially leaves, and related shapes, colors, and my thoughts. The preservation and pasting are the technical process. It is my hope that these "Odes" to composing also engage viewers."
Faye is an avid gardener and patron of trees, an admirer of tomatoes and nature, and a novice birder. She is a native of the Guilford College area of Greensboro where she still lives, and a graduate of the University of North Carolina at Greensboro with a BFA (Magna cum laude) and MFA in painting and printmaking. She studied at Kent State Blossom Festival, Penland and Arrowmont Craft schools; traveled in India, England, Ireland; studied art history in France and painting and art history in Italy.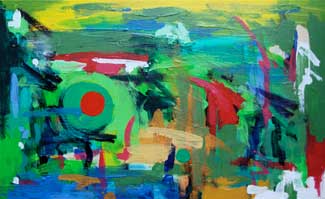 Chris Flory is showing a series of acrylic abstract paintings on poplar panels entitled, "More of the Same", composed of densely layered brushstrokes. Some have landscape references (to an Arizona trip) and some are about ideas.
Chris Flory was born in Philadelphia, Pa. She has a BFA in printmaking from Philadelphia College of Art, and MFA in painting from UNC-Greensboro. She has been a member of Artworks Gallery since 1993, and has shown there every year since then.
The opening reception is Friday, September 4, 7-10pm. The exhibit will be open for the Gallery Hop.
The exhibit and reception are free and open to the public.
E. Faye Collins, Tree Family, collage
Chris Flory, More of the Same, acrylic painting
Click on image for a larger view