Ty Brown "As Above, So Below"
and Work by 2013 Salem College, WFU, and WSSU Graduates
July 29 - August 31, 2013
Meet the Artists: Friday, August 2, Gallery Hop, 7 - 10 pm
Artworks Gallery presents two exhibits, one by Ty Brown entitled "As Above, So Below" of photographs from a Costa Rican fishing village and from Laos documenting a clean water project. The second exhibit is work by 2013 graduates of the studio programs at Salem College, Wake Forest University, and Winston-Salem State University.
At the opening during Gallery Hop at 8:00pm, Ty Brown's son, Bear, will read some of his poetry. An Appalachian native, he is co-founder of the High Country Poetry Society that promotes spoken word poetry events in Boone, NC.
Ty Brown is showing color photographs called BOAT BOTTOMS from Playas del Coco, Costa Rica. Playas del Coco is an old fishing village on the North Pacific coast of Costa Rica. As Brown relates: "Fishing is now depleted except for the sportsman. Many skiffs line the 1 ½ mile beach, some not moved in years while others are in and out of the water on a daily basis. Usually in the early morning or late afternoon light I captured my boat bottoms. The image of the tree, titled "As Above, So Below," was shot near Lake Arenal, Costa Rica."
In addition, Brown is showing photographs from LAOS, PDR called The Forgotten Country. He explains: "During 2010 and 2011, I spent considerable time in Laos, PDR, working with an Australian Non Government Organization, NGO, named Abundant Water. The mission was to bring clean water to the northern section of Laos. This is one of the poorest areas of the world. The method was to teach local potters to make and fire water filters from clay and coffee grounds and show villages how to do this on their own to continue the process. My function as a photographer was to document this effort using stills and video to help with fund raising back in Australia. These images are a part of my personal work while in Laos.
From Ty Brown: "A footnote on Laos, PDR. During the Vietnam War massive aerial bombardment against the Pathet Laos and NVA forces was carried out by the United States to prevent the collapse of the Lao central government and to prevent the use of the Ho Chi Minh Trail by the Viet Cong to supply the south. Laos was hit by an average of one B-52 bomb load every 8 minutes, 24 hours a day, between 1964 and 1973. U.S. bombers dropped more ordnance on Laos in this period than was dropped during the whole of World War II. Of the 260 million bombs that rained down, some 80 million failed to explode and a great percentage are still in the ground…."as above, so below…."
Ty Brown (Tyrie) received his B.S. in Advertising/ Photojournalism at the University of Kansas in 1972 and studied at the Kansas City Art Institute. The past 37 years include work in film production, NYC, photojournalism in Kansas City, 24 years as publisher, photographer of Homes & Land Magazine of the High South, Boone, NC, and 2 years as adjunct faculty at Appalachian State, technical photography department, mid-nineties. He has been shooting large format black & white since 1990, digital color work since 2008. After spending most of 2010 and 2011 in Laos PDR doing video and photography for an Australian NGO, he now resides in Winston-Salem, NC.
(Bear Brown, Ty's son, is an Appalachian native and co-founder of the High Country Poetry Society. He has been promoting spoken word poetry events as well as hosting weekly poetry open mikes in Boone, NC for the past 3 years. THSPC, founded in 2012, works to bring opportunities for poetry and prose in the form of writing workshops, performances, publications, and SLAMS. www.facebook.com/thehighcountrypoetrysociety)
Click on image for a larger view.
Ty Brown, "As Above, So Below", photograph
Diana Vasquez, "The Origins of the Soul", oil on canvas
Abigail Brown, "Untitiled III (Compression)", oil on canvas
Chantal Setzer, "Grace I", digital photograph
Lauren Lukacsko, "Hoppity", collage
Alexandra Randall, "Poison", linocut print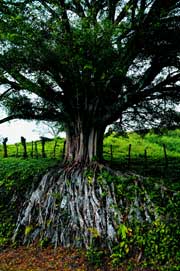 As Above, So Below