Jeremiah Miller: Inner Woods
February 2 - February 27, 2010
Opening Reception: Friday, Feb. 5, 7-10 pm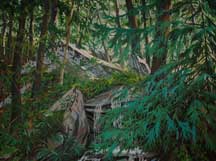 Artworks Gallery presents an exhibition of landscape oil paintings by Jeremiah Miller.
The paintings depict commonplace locations in the interior of the Carolina woods. They celebrate both the subject and the painting process with an emphasis on the inherent abstraction of the scene and a playful use of brushwork. Miller's landscapes tend to evoke a mood of solitude and silence and dissolve into abstraction. Miller received a BFA in Illustration at the Ringling School of Art & Design in Florida and a BFA & MFA in Painting at UNC-Greensboro.
His paintings are in numerous collections including the South Carolina State Collection; Gibbes Museum of Art, Charleston, SC; the Deland Museum of Art, Deland, FL; the Danville Museum of Art and History, Danville, VA; George Washington University, Washington, DC; the National Park Service, Washington, DC; and Wake Forest University in Winston-Salem, NC. Miller lives in Belews Creek, NC.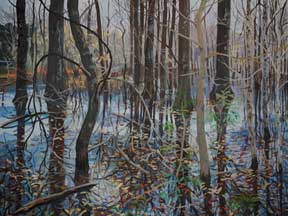 The opening reception is Friday, February 5, 7 - 10 pm during the Gallery Hop.
The exhibit and reception are free and open to the public.
Click on image for a larger view