Alix Hitchcock and Beverly Noyes
Exhibition Dates: September 29 - October 31, 2009
Reception: Friday, October 2, 7 - 10pm (Gallery Hop)

Artworks Gallery is presenting a two-person exhibit of watercolors by Alix Hitchcock and Beverly Noyes.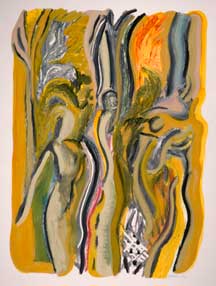 Alix Hitchcock is showing colorful abstract watercolors, some of which have collage, or are watercolor applied to a monotype print. There may appear hints of partial figures immersed in a swirling environment of gestural marks and shapes of color, with a suggestion of shifting time.
Alix Hitchcock received her Masters in Art in painting from New York University in 1983, and her Bachelor of Fine Arts in printmaking and painting from the University of N.C. at Greensboro in 1973. She has been an Instructor in Drawing at Wake Forest University since 1989, and has also taught art at the North Carolina School of the Arts, the Sawtooth Center for Visual Arts, the NC Center for the Advancement of Teaching, Mitchell Community College, East Carolina University, The Reynolds Homestead, and Reynolda House Museum of American Art. Ms. Hitchcock was the Winston-Salem Artist of the Year in 1998, and is a founding board member of Artworks Gallery. She has exhibited widely in N.C. In addition, she has been in shows in Kentucky, Virginia, S.C., New York, and Wyoming. Ms.Hitchcock is in many private as well as public collections.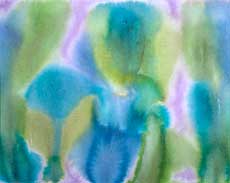 Beverly Noyes is showing a series of watercolors which explore the essence of flowers. Some of the pieces are very abstract and attempt to capture the quality of a certain variety of flower. Other pieces are more realistic and portray a particular flower as it appears in its environment. In every piece, layered color is a significant factor in the desired expression.
A native of Minnesota, Mrs. Noyes has lived in Winston-Salem since 1971. She earned an MFA from the University of North Carolina at Greensboro and a BS in Art Education from St. Cloud State University in Minnesota. Mrs. Noyes taught painting at the Sawtooth Center for Visual Arts in Winston-Salem throughout the 1990's. She is an exhibiting member of Associated Artists of Winston-Salem and has been a member of Artworks Gallery since 1989. Her work has been on exhibit in the area and around the state for the past 20 years.
The opening reception is Friday, October 2, 7-10pm. The exhibit will be open for the Gallery Hop.
The exhibit and reception are free and open to the public.
Alix Hitchcock, Flowing, watercolor on monotype, 30" x 22"
Beverly Noyes, Iris, watercolor, 15" x 18"
Click on image for a larger view