Nancy Hayes and Jody Danner Walker
Exhibition Dates: August 4 - 29, 2009
Reception: Friday, August 7, 7 to 10pm (Gallery Hop)

Artworks Gallery is presenting a two-person exhibit including "Earth Creatures," collages by Nancy Hayes, and "Layers," fused glass pieces by Jody Danner Walker.
Nancy Hayes continues a line of artistic exploration of the animal kingdom and its interface with the modern word. Using the medium of collage she pastes together a tapestry of images that are at once homage to the surviving beasts of the natural world, yet reveals a sense of their peril and frailty. The compositions frequently present caricatures played out through ironic use of proportion and contrasting elements. While there is an undercurrent of urgency to the work, reflected in our collective sense of global environmental change, the angst is matched with a sense of humor and joy derived from the artist's underlying world view.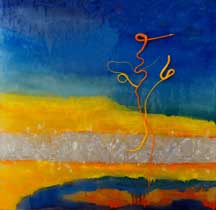 Jody Danner Walker's show "Layers," incorporates abstract images of figures and the American landscape that hint of her love of color and mark-making that she learned from her painting education in England. Her art begins with on-site sketches, paintings or photos. From those references, she builds her glass pieces in the studio, hoping to retain the immediacy of the designs and figures in nature, resulting in a painterly memory. Layers of glass are painted and fired multiple times, then carved with a glass lathe, building upon each other to capture a sense of transparent and opaque dimension.
Jody Danner Walker was accepted into a 2008-9 juried show at the Smithsonian Institution, has been accepted in the Corning Museum of Glass and is consistently included in the prestigious annual auction for Dale Chihuly's Pilchuck Glass School. She continues to teach advanced classes on kiln-formed glass at The Corning Museum of Glass, The Arrowmont School of Arts and Crafts, universities, non-profit and private studios across the country, as well as, in her studio, Warm Glass Gallery and Studio, in Clemmons, NC. Her book on groundbreaking techniques for traditional printmaking on glass will be released by spring 2010. Her art can be found in galleries, private, and corporate collections around the world.
The opening reception is Friday, August 7, 7-10pm. The exhibit will be open for the Gallery Hop.
The exhibit and reception are free and open to the public.
Nancy Hayes, "Total Concentration"
Jody Danner Walker, "Grand Prismatic"
Click on image for a larger view