Cindy Taplin and Kimberley Varnadoe
Exhibition Dates: June 30 through August 1, 2009
Reception: Sunday, June 12, 3 to 5 pm
Gallery Hop: Friday, July 3, 7 to 10 pm
Artworks Gallery is presenting a two-person exhibit of acrylic paintings by Cindy Taplin and emulsion lift photographs by Kimberly Varnadoe.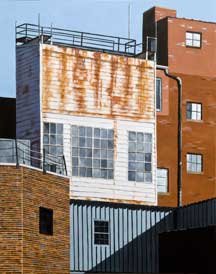 Cindy Taplin is showing her most recent paintings which focus on downtown Winston-Salem. These paintings reflect her belief that there are always surprises to be found in familiar places. Her show also includes several imagined cityscapes to complement the others. All works are acrylic on canvas. Cindy earned a BA in Mathematics at Salem College, where she also studied studio art. She paints full-time in a studio in the Arts District of Winston-Salem.
Kimberly Varnadoe, Associate Professor of Art at Salem College, is an active printmaker/photographer who exhibits her work frequently in North Carolina and throughout the Southeast. She specializes in innovative studio techniques, which often combine experimental photography, printmaking and book arts. Kim received her M.F.A with a concentration in Printmaking from The University of Memphis in 1991 and her BFA from The University of South Alabama in 1983.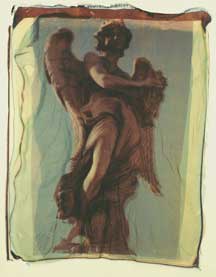 Kimberly Varnadoe's recent work consists of large-scale Polaroid emulsion lifts of angel statues photographed on Porte Sant'Angelo in Rome (Bridge of Angels). Kim traveled to Italy in 2005 where she first encountered these Angel statues. She then traveled to New York in the spring of 2009 to attend the 20 x 24 Studio and shoot images using the large-scale Polaroid camera. This was possible due to the support from the 2008-09 Regional Artists Project Grant from the Arts Council of Winston-Salem and Forsyth County.
The opening reception is Sunday, July 12 from 3-5pm. The exhibit will also be open for the Gallery Hop, Friday, July 3.
The exhibit and reception are free and open to the public.
Click on image for a larger view