Mitzi Shewmake and Mona Wu
Exhibition Dates: June 2 through June 27, 2009
Reception: Friday, June 5, 7 to 10 pm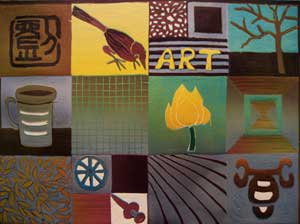 Artworks Gallery is presenting a two-person exhibit entitled, " Medium and Message", with Mitzi Shewmake showing clay and cement sculpture, and Mona Wu showing monotype and woodcut prints.
The focus is on the medium used as it becomes part of the meaning of each work. Mona Wu uses several different media creating both prints and multimedia works.
(To left: Mona Wu, "Art, Etc." -- reduction linocut)
Mitzi Shewmake uses clay and cement in making sculpture. In the terra cotta works clay forms flow into each other. In the cement sculpture the forms are related through boundaries and divisions which provide room for the addition of extraneous materials.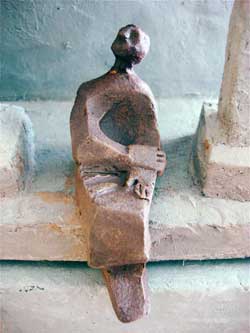 (To right: Mitzi Shewmake, "Empty Rooms" -- cement and terra cotta)
The opening reception is Friday, June 5 from 7-10pm. It will be open for the Gallery Hop.
The exhibit and reception are free and open to the public.
Click on image for a larger view