E. O. Hill and Holly Wilbur

April 28 through May 30, 2009
Reception: Friday, May 1. 7 pm to 10 pm
Artworks Gallery is presenting a two-person exhibit with E.O. Hill and Holly Wilbur.
E.O. Hill is showing drawings. He states: "Twenty years ago I did a number of drawings of my Doberman Dogs. We had bred and raised Dobermans for many years and hopefully those drawings conveyed their unique personality. In the past three years, we have begun keeping and raising Great Danes. I decided it was time to do some new dog drawings and will be showing some I call "Spanky and The Gang."
Mr. Hill received his BFA in Advertising and Commercial Art at the Ringling School of Art and Design in Sarasota, Florida in 1967, and his MFA in Drawing and Design at the Instituto Allende, University of Guanajuato in San Miguel de Allende, Mexico in 1969.
Holly Wilbur is showing photographs. As she states,"My passion for photography began many years ago, when as a child I used either a SLR 35mm or a 110 camera to capture images. In 2003 the digital age of photography came into the mainstream and through this transformation, photography became a medium in which I could feed my desire to photograph on a daily basis.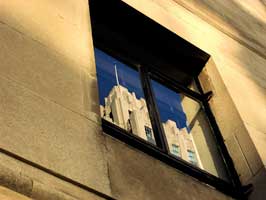 The images in this show are reflections. I like to go out after it has been raining to look in puddles or sometimes what I see in window panes, always looking for different visual perspectives. I am delighted by what I find by just looking at something at a different angle. These explorations are where this body of photographs comes from."
The opening reception is Friday, May 1 from 7-10pm. The Artworks Gallery will be open for the Gallery Hop.
The exhibit and reception are free and open to the public.
E. O. Hill, "Spanky's Smile," graphite
Holly Wilbur, "Untitled, March 2009." photograph
Click on image for a larger view