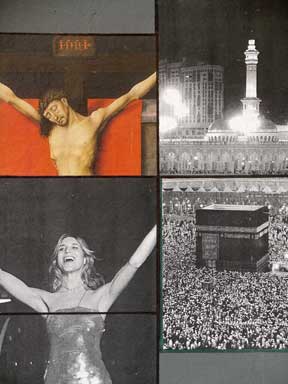 Anne Kesler Shields
Exhibition Dates:
March 31 through April 25, 2009
Reception: Friday, April 3, 6 pm to 7 pm
First Friday Gallery Hop:
April 3, 7 pm to 10 pm
For the first time in four years, Anne Kesler Shields is showing one of her room-sized installations in Winston-Salem. The new work, AMBIGUITIES II, includes 63 enlarged images appropriated from popular culture, current events and art history. This collage of photographs extends around three walls of Artworks Gallery.
The work centers on a large detail of 16th century German painter Albrecht Aldhorfer's, BATTLE OF ISSUS, which depicts thousands of mounted soldiers in combat. Photos of masses of people at Barack Obama's inauguration and at the Haj at Mecca are juxtaposed with portraits of individuals of different races, nationalities, religions, occupations and attitudes. The viewer will find visual and thematic connections among these disparate images, which were chosen as symbols of our beliefs, anxieties, despairs and hopes.
AMBIGUITIES II is part of a series of similarly themed installations by the artist. AMBIGUITIES I was exhibited in several art centers in South Carolina, North Carolina and Virginia in 2004 and 2005.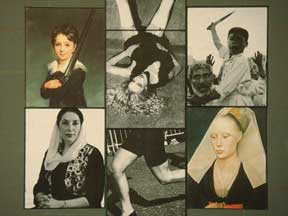 www.annekeslershields.com
Click on image for a larger view