Don Green and Lea Lackey-Zachmann
Exhibition Dates: March 3 through 28, 2009
Reception: Sunday, March 8, 2 pm – 4 pm
Artworks Gallery is presenting a two-person exhibit showing sculpture by Don Green and paintings and drawings by Lea Lackey-Zachmann.
The opening reception is Sunday, March 8, 2-4 pm.
The exhibit and reception are free and open to the public.
Don Green is showing wood and steel sculpture that is organic in form derived from plant and tree imagery.
Don Green is a sculptor, artist and craftsman. A fixture for more than 20 years in the Triad art community, Don's work also graces public and private collections across the nation. Don specializes in metal, wood and stone forms inspired by nature. He lives and works in Winston-Salem, North Carolina. He received his MFA from the University of Wisconsin, Madison, Wisconsin in 1966, his BFA from Illinois Wesleyan University in Bloomington, Illinois in 1964, and an Advertising Art Degree from the American Academy of Art, Chicago, Illinois in 1956.
To quote Don Green: "My art has always been inspired by nature— land, rocks, woods, water and the ongoing processes in nature—erosion, wear, rust and decay. My life is shaped and influenced by my perceptions of the natural world around me. I find proof of the existence of a supreme being and a sense of spiritual renewal and guidance in nature's landscapes. The materials I work with are stone, wood and naturally oxidized steel. My forms are generally organic, inspired by trees or details of them, hills and valleys, rocks, roots, streams and rivers. Much of my sculpture is concerned with massive weight, compression and the resulting distortion apparent in the forms. I generally allow my processes of working and forming sculpture to be apparent in the finished work, including slight warpage from hammering and welding steel, file or other tool marks—even brush strokes in paint. All record the human working in creating.
"I enjoy being outdoors and find it soothing and invigorating. My lifelong love of hiking and camping led me to hike part of the Appalachian Trail for the first time in the summer of 1986. The route merged at one point with the Virginia Creeper Trail for several miles. I was physically on the road bed of the old railroads but my mind and imagination were on the sights, sounds and smells of the timber, streams and wood trestles. I have returned to Grayson Highlands and the New River area dozens of times since then to hike, bike, canoe and camp. I grew up in Chicago and was steeped in Midwest landscapes but since I made North Carolina my home in 1966, I have come to love the mountains and the impact they have had on my life and my art." Visit his website: www.DonGreenart.com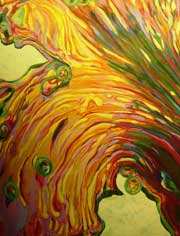 Lea Lackey-Zachmann is showing large and small acrylic paintings inspired by roses and microscopic images of roses. She is also showing ball point pen drawings of roses. Ms. Zachmann teaches art at High Point University.
To quote Ms. Zachmann: "The rose has become a national and international symbol. Love, sorrow, celebration, war, and sentiment are a few of the thoughts/feelings that roses define. Why roses? Not only are roses used by us visually, but also to anoint, to add to lotions, to use as olfactory substitutes of things for which we have no words. These paintings represent an investigation of roses in an attempt to understand how this and other flowers influence our lives." Visit her website: www.lealackey-zachmann.com
Artwork (click image for larger view):
Adobe # 5 (detail) maple wood by Don Green
Yellow Rose (detail) acrylic by Lea Lackey-Zachmann