"Ed Shewmake Memorial Exhibition"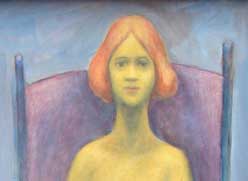 Exhibit dates: February 3 - 28, 2009
Reception:Sunday, February 8, 2-5 pm.
Artworks Gallery is presenting the "Ed Shewmake Memorial Exhibition," showing paintings, prints, and sculpture from the late Ed Shewmake's lifetime of work.
The opening reception is Sunday, February 8, 2-5 pm.
The exhibit and reception are free and open to the public.
Ed Shewmake was Professor of Art at Salem College from the 1950's to the early 1980's. He was Head of the Art Department at Salem College, teaching painting, printmaking, art history, and design.
He was the first president of Associated Artists of Winston-Salem, a founding member of Artworks Gallery, Winston-Salem, and a member of the Tri- State Sculptors Association. He was 2000 Winston-Salem Artist of the Year with Mitzi Shewmake, sponsored by the Sawtooth Center for Visual Art. He exhibited in numerous regional shows and is in many private collections.
Most of Ed's art was concerned with the human figure from abstract studies of form to figures in action. Some works are sophisticated and full of irony, others simply portray the silliness and humor in life situations. He did not follow trends in art but rather developed his own special style. Ed did numerous etchings, some engravings and some woodcuts. They all show his excellent understanding of printmaking techniques which he used to perfection.
In a 1950 newspaper article about his work he is quoted as saying, "Basically I guess you can say I paint emotions and feeling more than I do merely visual scenes … irony? I suppose so, though I've tried shaking it from time to time." Although Ed's style and techniques changed he continued to paint emotions and feeling during his working life.
Ed Shewmake received a B.S.from Davidson College in l941, and a MA in Art History from the University of NC in Chapel Hill in l950.
Ed Shewmake received professional Training from the Ringling School of Art in Sarasota, FL, the Corcoran School of Art in Washington DC, and from George Washington University. He attended the Art Students League of New York Summer School at Woodstock, NY, the Cleveland Art Institute, and the Carnegie Institute of Technology Summer School.
His most influential teachers were Yasuo Kuniyoshi, Kenneth Ness, and Dr. Clemens Sommer.
Above: Detail of Yellow Woman by Ed Shewmake. Click for larger image.