•
Upcoming Show
Sculpture for a
New Year:
Don Green
Virginia Ingram
Kate McGruder, Nancy Hayes
Ben Rouzie
Mary Beth Blackwell-Chapman
Jody Danner Walker Ed Shewmake
Mitzi Shewmake
January 3 -
January 26, 2008
Reception:
January 4. 7 - 10 pm
•
Get Email announcements of Upcoming Shows!

Note that most postcard announcements are being discontinued.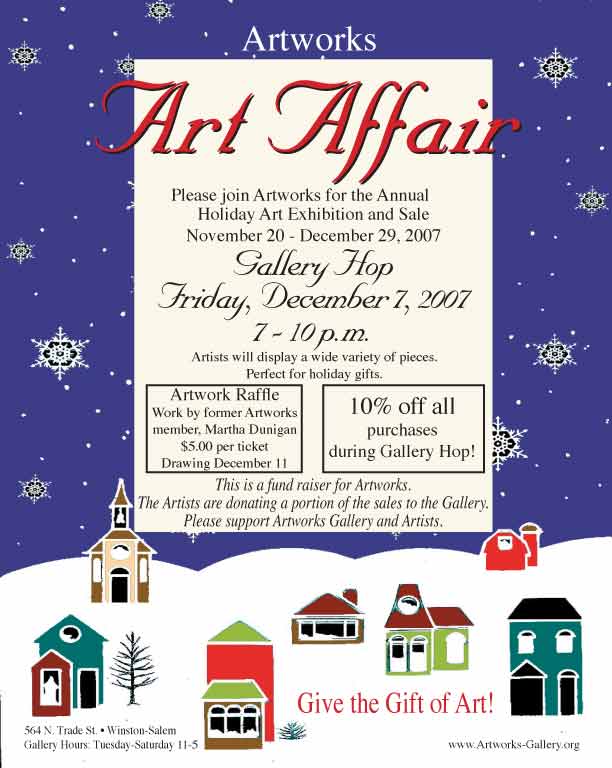 Art Affair

Exhibit dates: November 20 - December 29, 2007
Reception: Friday, December 7, 2007, 7 - 10 p.m. (Gallery Hop)

Artworks Gallery is presenting "Art Affair", an all members holiday exhibit and sale with many items perfect for gifts.

Also, an art work by former member Martha Dunigan will be raffled at $5.00/ticket, with the drawing December 11 as a fundraiser for the Gallery.


The opening reception is Friday, December 7, 7 - 10 PM, coinciding with the Gallery Hop in the Arts District. Purchasers receive 10% off during the Gallery Hop.
© 2007 Artworks Gallery, Inc. All rights to images in this site remain with the respective artists. Images may not be displayed, printed, published or reproduced without permission of the artist. Webmaster Public Relations: Alix Hitchcock